Hsin Hwa Chemical Co., Ltd. was established in the spring of 1973 with a promise to become one of the top CAST ACRYLIC SHEET manufacture in the region.
The elegant contemporary appearance and crystal-like clarity of Hsin Hwa Cast Acrylic Sheets markes it an incredible versatile material for any commercial user to fabricate.
Acrylic has many benefiting characteristics that makes it the most outstanding material for a wide range of products. Signboards, lighting, aquarium, shades, and many other furniture products utilize acrylic to achieve the brilliant and elegant finish that attracts the customer.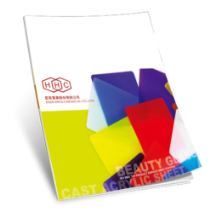 Please see below information for the catalogue content of Hsinh Hwa Chemical Co., Ltd.
If you need us to send you the catalogues by courier, please contact with us.
Please leave your message and we will reply as soon as we can.(* Is required)
No. 1 Yung-Hsiang Rd., Fang-Liao Hsiang, Pintung Hsien, Taiwan, 940

+886-8-8667725

+886-8-8667732